Our team of trained roofing professionals has years of experience as roofing contractors in Secaucus and surrounding areas.
Our experience includes roof repairs and new installations on many types of buildings including:
Warehouses
Apartment buildings
Condominiums
Banks
Churches
Synagogues
Schools
Gymnasiums
Stores
Hospitals
Office buildings
Industrial buildings
And more
Your roof is one of the most important parts of your business. It protects you from the weather, helps with heating and cooling, and gives style to your establishment. Whether you need an inspection, installation, or repair, our team of expert commercial roofing service can handle all your commercial roofing needs in Secaucus. With our extensive warranties for both materials and labor, we go the extra mile for our customers so their quality roofs last for years to come.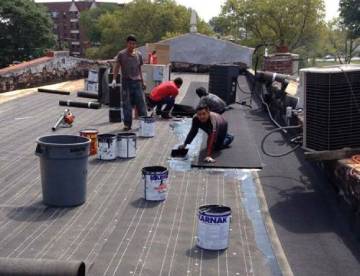 Call us today for a free estimate.